Langley residents want a voice for Seniors in Government
November 08, 2016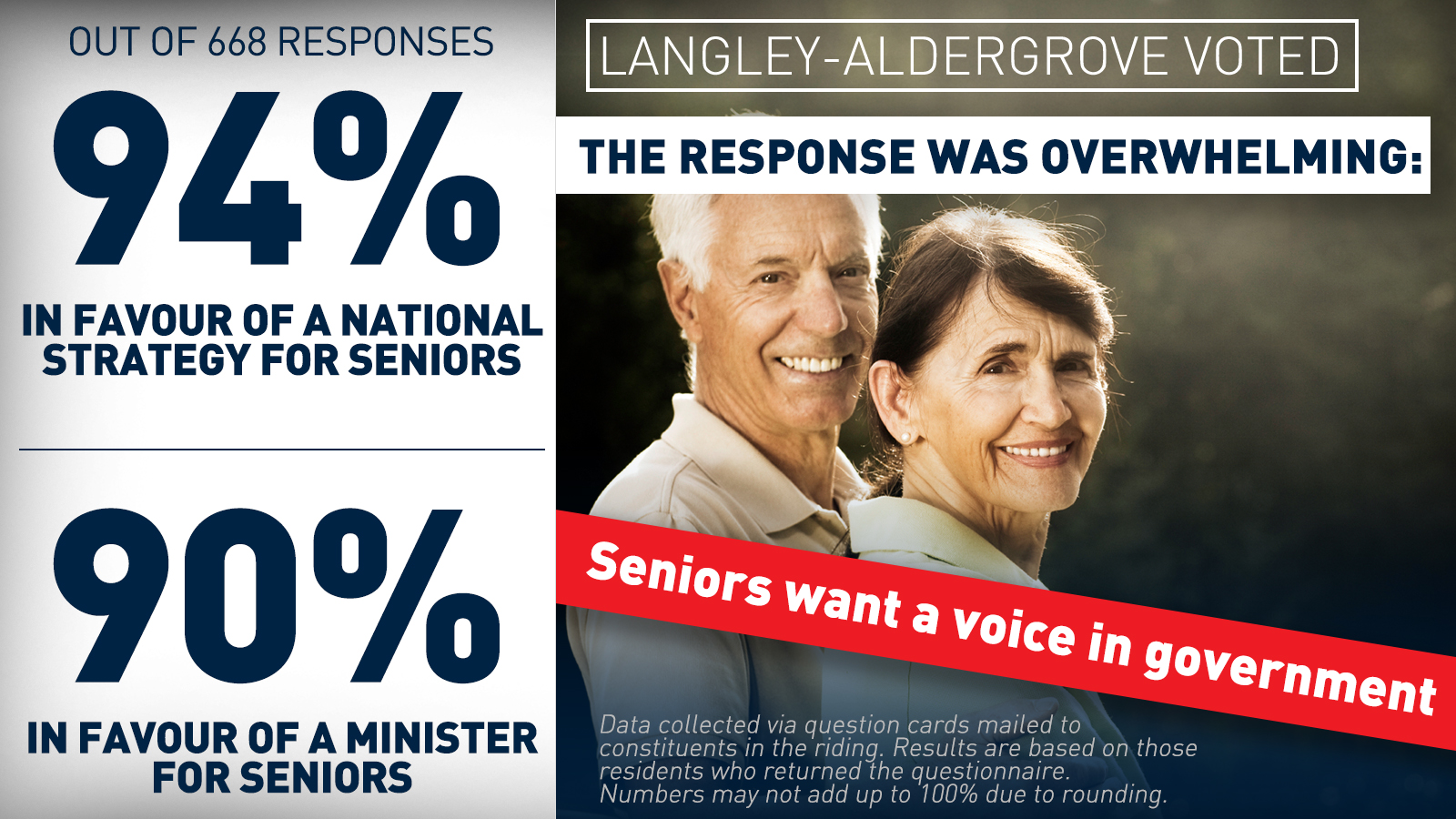 Langley, BC – Today, MP Mark Warawa released the results of a recent survey on seniors issues, which went to every home in the Langley—Aldergrove riding.

"We received a record number of responses from Langley residents," said Warawa. "The results are emphatically clear: Langley residents want seniors to have a voice in the Government; they believe that a National Seniors Strategy and a Minister for Seniors is the best way forward."
A National Seniors Strategy would ensure that many of the issues important to seniors — such as establishing a national strategy for Alzheimer's disease and other dementias, improving palliative care, and ensuring quality homecare — are listened to and addressed.
"A National Seniors Strategy becomes increasingly important as Canada's demographics rapidly change," added Warawa. "Right now, one in six Canadians is a senior. Within thirteen years, that number will be one in four.
"Without a strategy, the Government does not have a sustainable plan to address both the challenges and opportunities that stem from this shift in our country's population," said Warawa. "Developing this strategy starts with appointing a Minister for Seniors. The Prime Minister has the portfolio of Minister for Youth, and there is a Minister for Families, so this begs the question: shouldn't Canada's fastest-growing demographic have their own voice in government?"
Warawa is the co-chair of an all-party Seniors Caucus. The mandate of the caucus is to address the growing concerns of Canadian seniors across the country. "Already, we've had very productive meetings. I'm hopeful that this committee will bring forward valuable recommendations to assist the Government of Canada in better serving our seniors."
Survey Background:
Of the 668 responses received, 94% (625) stated that they are in favour of a national strategy for seniors, 2% (14) were opposed and 4% (29) were undecided.
In addition, 90% (602) stated that they are in favour of having a Minister for Seniors, 4% (29) were opposed and 6% (37) were undecided.